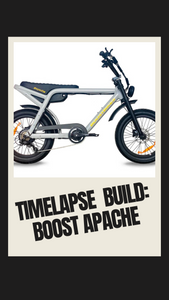 Unveiling the Boost Apache E-Bike: Your Pathway to Boundless Adventure
Are you ready to revolutionize your biking escapades? Look no further than the Boost Apache E-Bike, a true game-changer in the world of cycling. Whether you're an adrenaline junkie seeking thrilling trails or a casual rider in pursuit of leisurely joyrides, the Boost Apache E-Bike is your ticket to an exhilarating journey.
Witness the Transformation: Building the Boost Apache E-Bike
Unleashing Power and Precision
The heart and soul of the Boost Apache E-Bike reside in its robust electric motor, seamlessly integrated to provide an unparalleled blend of power and precision. As you pedal, experience a surge of energy that transforms uphill battles into mere undulations and turns tricky terrain into a smooth glide. The motor's intelligent design ensures a dynamic and controlled ride, letting you conquer trails with newfound confidence.
Discover the Boost Apache's Impressive Specs:
- **Motor:** BAFANG Mid Drive 48V 750W
- **Battery:** 48V 14.5Ah Samsung Lithium-Ion Battery
- **Display:** BAFANG Color Display with USB Charging Port
- **Range:** Up to 60-80km on a Single Charge
- **Frame:** High-Strength Aluminum Alloy
- **Suspension:** Adjustable Front Suspension Fork
- **Gearing:** Shimano 7-speed
- **Brakes:** Tektro Hydraulic Disc Brakes
- **Tires:** Kenda 26" x 4" Fat Tires
- **Extras:** Integrated Front and Rear Lights

The Boost Apache E-Bike isn't just a one-size-fits-all solution. Choose from grey, vibrant orange or sleek black, aligning your ride with your personal style. But that's not all – for those seeking extended journeys, the Boost Apache offers optional dual batteries for maximum travel time and distance.
Exploration Without Limits
The Boost Apache E-Bike is more than just a mode of transportation; it's a gateway to unexplored realms. Whether it's conquering rugged mountain paths or cruising along picturesque country roads, this e-bike empowers you to embark on adventures without constraints. The electric assist extends your exploration radius, encouraging you to delve into landscapes that were once out of reach.
Embrace the Revolution
The Boost Apache E-Bike isn't a mere product; it's a catalyst for transformation. It embodies the spirit of pushing boundaries, welcoming innovation, and relishing the great outdoors in a whole new light. Whether you're chasing heart-pounding adventures or serene rides through nature, this e-bike is your constant companion, ready to accompany you on every venture.
Seize the Opportunity
Are you prepared to elevate your biking escapades to new dimensions? Embark on a journey with the Boost Apache E-Bike and redefine the way you experience cycling. Engage with the power, the freedom, and the sheer thrill that only this remarkable e-bike can deliver. Join the e-bike movement and let the Boost Apache redefine your adventure, pedal after pedal.
Explore the Boost Apache E-Bike: 
Boost Apache ebike | 2022 – Revolution Bikes
---